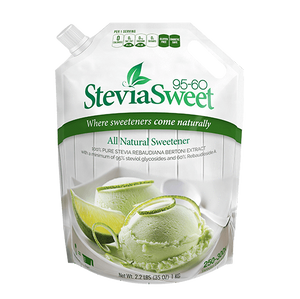 SteviaSweet 95-60 | Pure Stevia Extract Powder (60% Reb A)
Regular price $155.00 $132.00 Sale
One Kilogram (2.2 lbs) is Equal to over 1000 lbs of sugar with no calories or carbs!
SteviaSweet 95/60 is identical to our SteviaSweet pure stevia powder in 1.3 ounce bottles for home users, only offered in in larger pack sizes for manufacturers.  Formulated with a minimum of 95% steviol glycosides and a minimum of 60% Reb A, you'll find the sweet spot between quality, flavor and affordability with SteviaSweet 95/60.  A mainstay for centuries in regions around the world, stevia is an all-natural high intensity sweetener, derived from the stevia leaf.  Using a clean water process to extract the sweetest part of the leaf, containing the most potent steviol glycosides, yields a high intensity sweetener that is 250-300 times sweeter than table sugar.  A little goes a very long way!
Ingredients:
100% pure stevia extract (no fillers or additives)
Form:  Very fine powder
How Do I Use It?
SteviaSweet stevia powder works best in very small amounts. It's 250 to 300 times sweeter than sugar, so a little really does go a long way.
You can use it right away, in your coffee or tea -- 1/32nd of a teaspoon sweetens a full cup of coffee.
For manufacturers, you can use SteviaSweet 95/60 alone, or pair it with a synergistic polyol, such as Erysweet erythritol, to add bulk in your formulations, and increase dispersion while maintaining clean label objectives.
What Is It Made Of?
Used for hundreds of years in cultures around the world, stevia is derived from the Stevia Rebaudiana plant.
How Is It Made?
SteviaSweet stevia powder starts its life as an all-natural stevia leaf. When the stevia leaves are processed, using only a natural water extractions process (never any petrochemicals or bleaches!), the result is a creamy white powder, called steviosides, or Rebaudioside A. It is 250 to 300 times sweeter than sugar yet has no carbohydrates or calories, and is safe for diabetics and those with hypoglycemia.
SteviaSweet stevia powder uses the least bitter, sweetest constituent of the stevia leaf, resulting in a sweet, clean flavor.
Health and Dietary Information:
With zero carbs, zero calories and no glycemic impact, SteviaSweet pure stevia is a perfect mainstay for low/no carb nutritional plans, and diabetics.