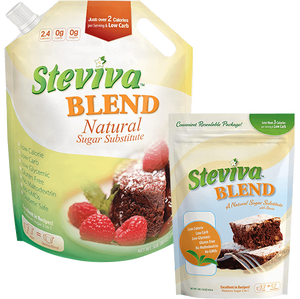 Steviva Blend | Erythritol & Stevia Blend
Regular price $10.49 Sale
Steviva Blend is a blend of the highest quality Rebaudioside A (stevia extract) an all natural grain extract, erythritol, a filler which is naturally occurring in a variety of foods and derived from non-GMO fermented grain.
Steviva Blend is granulated like sugar, dissolves quickly and has a 2:1 sweetness ratio to sugar, so it is very easy to measure. Steviva Blend is ideal to bake and cook with. Steviva Blend has less than 1 Calorie and less than 1 Carbohydrate per serving making it safe for diabetics and may be used in hot or cold liquids, sprinkled on cereals and fruit, or in any way that you wish to use this revolutionary dietary supplement.
What is Erythritol?
A substance which occurs naturally in many fruits and vegetables now manufactured by fermentation of glucose. With a caloric value close to zero (max 0.2Kcal/g) with an appearance and properties very similar to sucrose but offering 70% of the sweetness of sucrose, it is an ideal choice for many applications.
Availability: Ships within 24 hours via USPS Priority Mail