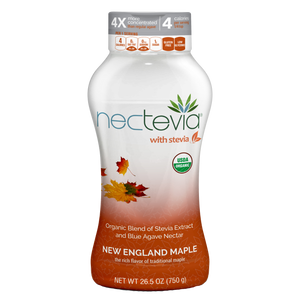 Nectevia New England Maple | Stevia Infused Agave Nectar
Regular price $12.95 $9.95 Sale
By adding natural maple flavoring to our already amazing Nectevia agave, we've created a direct replacement for maple syrup! Infusing organic blue agave nectar with our premium 100% pure stevia extract creates a decadent, indulgent taste experience with only 1/4 the calories, carbs and sugars of regular agave, or table sugar.
Enjoy New England Maple Nectevia directly on pancakes and waffles, and everywhere else you'd like guilt-free maple goodness.
75% fewer carbs, calories and sugars, compared to regular agave, Nectevia provides an amazing 200 servings per bottle.
Super concentrated, it lasts 400% longer than regular agave.
1 tsp Nectevia = 4 tsp regular agave, which means one bottle of Nectevia is like buying an astonishing 4 bottles of regular agave.
Ingredients:
Organic Agave Nectar, Organic Stevia Extract and Natural Flavors
How Do I Use It?
All 6 Nectevia flavors are fantastic in hot or cold beverages, in baked goods and for general cooking. 4 times sweeter than sugar, a little goes a long way!  Use ¼ as much as sugar in your recipes.
In coffee or tea, try ½ teaspoon at first, then adjust up or down according to taste in future cups. There are an amazing 200 servings per bottle, for coffee, tea, chai, smoothies or iced tea.  All 6 flavors will work in beverages, and baking alike.
For sauces, marinades, cooking and baked goods, you'll enjoy choosing just the right complimentary flavor of Nectevia for your recipe.  Original Flavor will provide the most utility, adapting to all kinds of flavor profiles.  With cardamom (Marrakesh Spice), anise, vanilla, maple and Chai to choose from, you'll have loads of fun experimenting in the kitchen.
What Is It Made Of?
We begin with organic blue agave nectar and add the precise amount of pure stevia powder to heighten the sweetness of the agave to its maximum level.  We maintain tight control over our formulation, metering out just enough stevia for maximum sweetness, but using so little you can't even taste its presence.  The result is agave nectar that is four times sweeter than plain agave alone.
How Is It Made:
Agave Nectar
Steviva's Nectevia uses nectar from the Blue Agave plant, commonly found in the southwest US, Mexico and South America.  Blue Agave is a member of the succulent family, and nectar can be made from either the sap of the plant or from its root bulb.  The base of the plant is heated to a low temperature (under 118 degrees), allowing ease of processing: chopping, filtering and passing through a centrifuge, before heading into the final bottle/packaging.
Stevia
We use only our own SteviaSweet pure stevia powder in our Nectevia.  SteviaSweet starts its life as an all-natural stevia leaf. When the stevia leaves are processed, using only a natural water extractions process (never any petrochemicals or bleaches!), the result is a creamy white powder, called steviosides, or Rebaudioside A. It is 250 to 300 times sweeter than sugar yet has no carbohydrates or calories, and is safe for diabetics and those with hypoglycemia.
SteviaSweet stevia powder uses the least bitter, sweetest constituent of the stevia leaf, resulting in a sweet, clean flavor.
Healthy and Dietary Information:
With a lower glycemic impact then ordinary agave nectar, all varieties of Nectevia are suitable for low-carb nutrition plans.